The Coastwatchers 'Moruya Forest Forum', was held on Wednesday 23 August 2017, and was a great success. About 100 people attended the Forum in the St. Mary's Performing Art Centre, an ideal venue for this type of activity.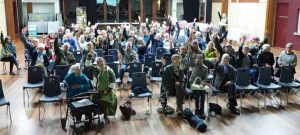 The meeting opened with the showing of an abridged version of the film "Understory" produced by David Gallan. The film highlighted the struggles over the past 30 years to save the local south coast forests from destruction.
The Forum heard from three expert speakers:
Mike Thompson, a Coastwatchers member who talked about local forestry issues;
Virginia Young, the former Wilderness Society Forest Campaign Coordinator who outlined issues occurring internationally in forestry, the need to retain forests as carbon banks and biodiversity; and
Dr Oisin Sweeney, the Chief Ecologist with the National Parks Association who addressed the NPA's "Forests for all Plan".
The facilitator of the Forum was Dr George Browning, who did an excellent job. The Association thanks David, Mike, Virginia, Oisin and George, for their contributions and their professionalism in making the evening such a success.
Three resolutions were passed at the end of the Forum, calling on the NSW Government to:
Cease Logging Mogo State Forest
Immediately cease logging the Mogo State Forest until a professionally based pre logging review is undertaken and assessed, given the known presence of both the Vulnerable (Commonwealth) Greater Glider and the Vulnerable (NSW) Yellow Bellied Glider, which have so far been ignored.
Existing Claytons Review
Note it is an insult to the South Coast community, for NSW Forestry to prepare a highly inadequate and Claytons pre logging review, when the review was constrained to an 18 hour budget for a 400 ha forest, and when reviewers in that forest were limited to a few tracks because of night-time occupational health and safety concerns, while searching for nocturnal species.
National Parks Association "Forests for All Plan"
Support the aims and rationale of National Parks Association's "FORESTS FOR ALL PLAN", and calls on the NSW Government to commit to the implementation of the PLAN as a more equitable and sustainable use of public native forests across NSW."