As you are all aware atmospheric CO2 concentrations are rising at an exponential rate, reaching 405.25 in December 2016.
Last Saturday the 'Friends of the Botanic Gardens' had a world expert, Tony Haymet, address their meeting. Not only was it alarming to hear what he had to say about CO2 but he also addressed Ocean Warming, a subject which is little flagged.
The contents of the speech were alarming, and most departing guests said "I will be dead" but "I fear for my future grand children". Later in the year Tony will address a Coastwatchers meeting on this topic.
Two charts are presented. They need no explanations. The Ocean Warming chart will be presented in a future Newsletter.
The first NASA chart shows atmospheric CO2 levels in recent years, with the average seasonal cycle removed. The second NASA chart shows CO2 levels during the last three glacial cycles, as reconstructed from ice cores.
DIRECT CARBON DIOXIDE ATMOSPHERIC MEASUREMENTS 2005-PRESENT
Data Source: Monthly measurements (average seasonal cycle removed. Credit NOAA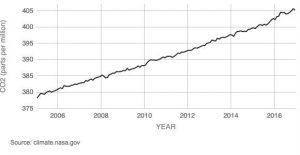 (Note: The 350.org movement considers the atmospheric concentration 350ppm of CO2 as a safe upper limit.)
PROXY (INDIRECT) CARBON DIOXIDE ATMOSPHERIC MEASUREMENTS
Data Source: Reconstruction from ice cores. Credit NOAA